If you're doing the same ole' spray and pray advertising as ever other veterinarian you know and you're relying on your business card, practice brochure and yellow pages ad as your main marketing tools then…
No Matter How Good Your Veterinary Practice Management Skills Are
This Single Simple Mistake Is Literally Costing You Hundreds Of Thousands of Dollars,
Maybe Even Millions of Dollars Over the Life of Your Veterinary Practice!
You Might As Well Be Letting Money Blow Right Out the Front Door of Your Veterinary Practice.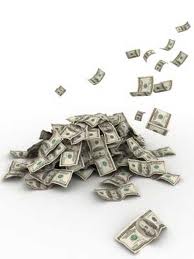 If You Think You Could Be Making This Mistake Then Keep Reading, Because…

"Even the Greatest Veterinarian In The World Will Struggle,
And Eventually Go Broke Without Enough New Clients & Income!"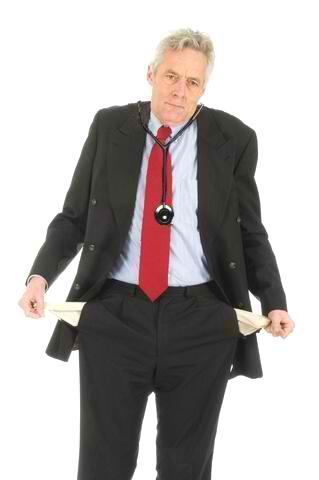 Is Your Vet Practice Seeing Enough New Clients…Every Month? Every Week? Every Day?

To Sustain and Grow Your Practice?
And Are You Getting the Most From Your Current Clients?

The Ultimate Mistake I'm Talking About Here Is
Ineffectively Marketing Your Veterinary Products and Services
By Doing It The Wrong Way!
Are You Making This Mistake In Your Veterinary Practice Right Now?
Well If You're Struggling Financially and You're Not Seeing Enough New Clients You're Likely Making That Mistake, And If You're Busy But Not Busy Enough We Can Remedy That Today. And It's Not Your Fault If Your Attempts At Growing Your Practice Haven't Worked Well Up To Now and Here's Why!
You Have Been Working Way To Hard Just Trying To Make A Living In Your Practice To Seriously Consider Marketing As a Priority

, Not Because You're Lazy But Because You Simply Don't Want or Need More Busy Work. 

You Were Never Properly Trained To Do Veterinary Marketing That Works!

You Have Good Ideas About How To Market Your Practice, But Have Trouble Implementing Those Good Ideas or You Just Don't Know Where To Start!

You May Feel Like You've Been Taken To The Cleaners In the Past By Paying Someone To Do Your Marketing For You, But It Turns Out They Didn't Have The First Clue About How You Could Maximize New Clients For Your Practice!

Your Cash-Flow Is So Unpredictable You Think It's Hard To Budget for Marketing!

No One Has Ever Shown You How To Market Yourself and Your Practice the Right Way and Get the Results You Deserve!

You Don't Have Time To Grow Your Practice, Because You're Just Too Busy Working In It!

You're Already Overworked, Not To Mention Underpaid! And Don't Need More Stuff To Do!

You've Been Burned By a So Called "Internet Marketing Expert" or "Social Media Consultant" That

Wasted Your Hard Earned Money On Un-Targeted Google Adwords Campaigns or Ineffective Facebook Advertising!

You Aren't Sure Where To Start, Besides You Already Have An Expensive Yellow Pages Ad!

You've Thought "Better" Management Was All You Needed To Grow Your Practice!

You're Afraid To Market Your Practice Because Your Colleagues May Think It Unprofessional!

You Thought Your Only Job Was Working Hard Just Being a Good Veterinarian and You Forgot To Remind Folks of What You Do and How Good You Do It!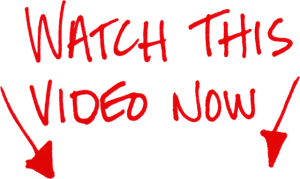 Hey, Believe Me I Understand, It's Not All About the Money!
But Without Enough Veterinary Practice Income How Long Will You Be Able To Provide The Proper Services and Products You Desire and Your Patients Need???
How Will You Pay Your Bills???
How Will You Grow Your Practice???

Starting Today You Can Forget All Those Reasons and Excuses Above and Get Started "TURBOCHARGING" Your Veterinary Practice Marketing the Right Way With the Magnetic Veterinary Marketing System….
Here Are The Reasons You Need To Turbocharge Your Veterinary Practice Marketing Today!



Practice Overhead and Expenses That Would Choke a Mule!
Shrinking Discretionary Income of 90% of Your Clients
Increasing Payroll, Income and Property Taxes
Increasing Government Regulation and Fees
Disappearing Credit for Businesses and Consumers
A Stagnating and Weakening Local and World Economy
More Erratic Boom and Bust Swings In Your Local Economy
Customers Moving or Dying! (Attrition Rate)

Increasing Number of Veterinarians Graduating Each Year



You should be using every possible effective method available to promote your veterinary practice's services and products to your current clients and to those new clients out there!
So if you are promoting your veterinary practice the same way other veterinary practice is, then you need something new and different!
You need to separate your veterinary practice from the herd and stand out for new clients.
If you own a veterinary practice – why not get the most out of it!
Add a Turbocharger to your practice with Magnetic Veterinary Marketing!

And What Could You Do With More Income From Your Practice?
Take Home More Income For Yourself and Your Family!
Better Compensate Your Hard Working and Loyal Staff With Bonuses and Benefits!
Pay Down Practice and Personal Debt!
Repay Family Members For Their Financial Help Over The Years!
Update Your Older Equipment or Building!
Take More Time Off From Work!
Take the Family On An Extended Vacation!
Fully Fund Your Retirement Account!
Fully Fund Your Children's College Funds!
Prepay Your Business Expenses (Including Your Marketing)!
Do More Charity Work For Your Community!
Buy Another Practice or Expand Your Current Practice!
Dear colleague,
I want to be straight up with you! In my opinion, the true benefit of any improvements in your veterinary practice  should result in you actually making more money, working less or getting more time off and having more fun doing your job!
All you have to do is make a few simple and quick changes to the way you operate your veterinary practice! That's it!
What if new clients come to your practice eager to trust you and your staff as the pet care authority and be eager to spend their money with your practice year after year.
What if old clients that you haven't seen in years will suddenly show up and want veterinary care for their pets.
Now if you're uncomfortable with having more time off from your veterinary practice, having extra income in your bank account or having more professional satisfaction  from your job and you'd rather not be bothered with any of these pesky problems ……
Then hey you'll get no argument from me, because real veterinary success and freedom may not be for everyone!
And maybe you'd rather have me scare the hell out of you, by telling you that…
The Divorce Rate For Veterinarians Is 70%

(almost double the national average), and that
The Alcoholism Rate For Veterinarians Is 200% That of the General Public, or that
The Suicide Rate For Veterinarians Is 400% or 4 Times That of Everyone Else and that
The Average Student Debt Load of a Graduating Veterinarian is $142,613, a 10.3 percent increase from the 2009 mean debt of $129,216 with an Average Monthly Payment of Over $1,500 for 10 Years!!!

(Click Here for the AVMA Report

)



So we'll both pretend those facts aren't actually true!
But I personally believe all those statistics are a result of financial strain and difficulty and a lack of adequate veterinary income! Fortunately income is something that can be fixed with better management and marketing, but unfortunately many veterinarians never discover this truth before it's too late and most of the rest ignore the obvious opportunities that better practice management and marketing would provide them!
And I'm sure you don't need to be reminded that as a veterinarian you'll never make even 1/3 of what the "real doctors" make (your counterparts in human medicine who make $300-$500/per hour in general practice without any specialty training) and that 80% of your clients think of you and your practice as a commodity and not even a necessity – usually the cheaper the better!

If I could have only developed my marketing system before my best friend from veterinary school took his own life as a result of business and personal financial strains and a stressed marriage – maybe he would still be here today? Unfortunately, many veterinarians will meet the same fate as my friend Craig all because they are frustrated, stressed, tired and demoralized by continued financial strain and it doesn't have to be that way.
So maybe you'd rather me sit here and tell you that bringing in new clients into your practice by the droves will solve all your problems and that adding extra income to your bottom line week after week and month after month and year after year will make you a better, happier person or even a better veterinarian.
And maybe your expecting me to tell you that failure to follow the specific proven systems and strategies in Magnetic Veterinary Marketing may result in increased owner stress, worrying, sleepless nights, bleeding ulcers, professional burnout, personal and professional humiliation, personal financial hardship, marital stress and divorce, and possible total business failure and practice bankruptcy a few months after that new practice opens just down the street from yours.
But I won't do that, because I cannot prove such assertions!
And I'd be lying to you if I sat here and told you that I was 100% absolutely positive that just by following my tested and proven strategies that you are going to not only add instant cash flow to your practice within days of implementing some of my strategies, that you are going to eventually double the value of your practice when you are ready to sell it and that maybe you'll even be able to retire 10 to 20 years ahead of schedule!
But what I can and will tell you with 100% crystal clear certainty is that you will double, triple, or even quadruple your chances of doing all those things over what you're doing right now by using my veterinary management and marketing strategies.
And I can tell you with great authority that those veterinarians who follow my systems and strategies will greatly reduce their chances of personal and business financial distress, marital difficulty and even personal health problems (particularly professional burnout)! They will not only improve their financial position but their overall health, physical and mental well-being through decreased stress and increased professional satisfaction.  Ultimately they will be more successful by using my methods!
Sincerely, To Your Practice and Personal Success!
Dr. Scott

P.S. Think about where you and your practice will be 5, 10, and even 20 years from now and then try to think about all the things you'll wish you had done better or different! Don't miss an opportunity or worse, wait til it's too late. Get started marketing your practice more effectively today!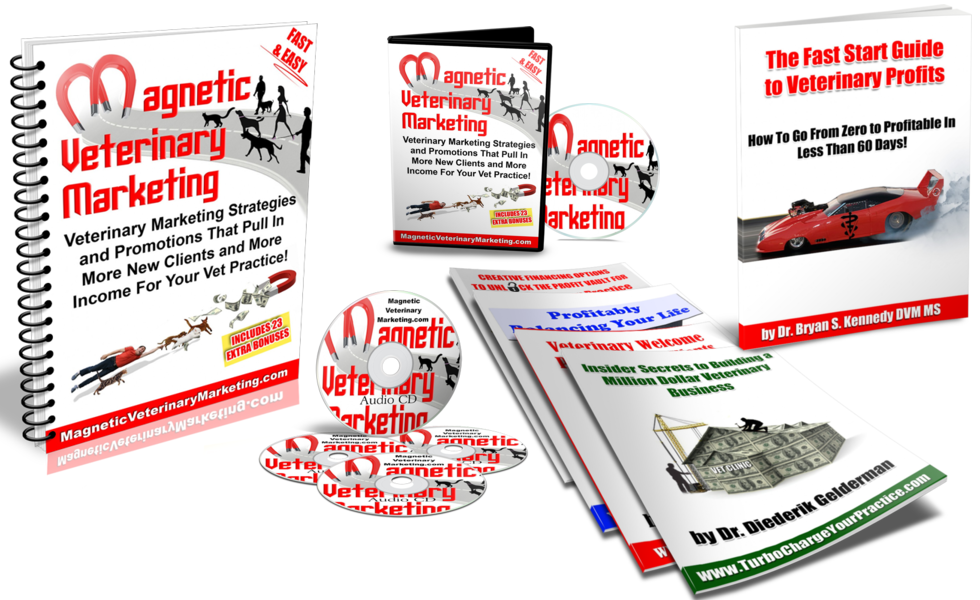 Order by Dec 23, 2017 and Get…

The Complete Magnetic Veterinary Marketing Manual

All The 5 Bonus Reports Above

1 Data CD Containing The Manual and Over 250 Digital Files

Over 5 Hours of Audio on 3 Audio Compact Discs

1 Audio MP3 Disc To Play On Your Computer In Your Office


Plus 8 HUGE Bonuses Including One Free Marketing Consultation and One Free Ad Critique (see below)
But You Must Order by Dec 23, 2017
 To Get Every Available Bonus!

Keep Reading To Find Out More!
This Is Not a Bunch of Marketing Theory!
This Is Powerful and Practical "REAL WORLD" Marketing
For the Working Veterinary Practice Owner!
"This Is The Stuff They Never Taught You In Veterinary School and You'll Never Learn By Copying Your Competitors!"
And It Doesn't Matter If Your Struggling, Prospering or You Are Just Comfortable With Being Average..

You Can Still Turbocharge Your Veterinary Marketing!
Get Over 300 Powerful Pages of Veterinary Marketing Strategies, Promotions and Tools Today That You Can Easily Use To Instantly Get More New Clients and Grow Your Practice! Plus…
49 Veterinary Marketing Strategies

You Can Instantly and Continuously Use To Grow Your Vet Practice!

Over 30 Veterinary Marketing Promotion Examples

You Can Swipe and Use In Your Practice Starting Tomorrow!

Over 5 Hours of Veterinary Marketing Audio Recordings

That Cover Every Single MVM Strategy! You Can Listen In Your Car, On Your Computer or Listen on Your Ipod, Iphone or Ipad MP3 Player!

A Complete Powerful and Practical Veterinary Marketing System That Really Works!
This System Has Yielded Returns As High As Over $4 For Every $1 Invested In Marketing! (So If I Spent $500 to run a marketing campaign I would get back over $2,000 in total revenue on average)

Finally a True Marketing System Developed by a Veterinarian For Veterinarians!


Real World 100% Guaranteed Proven To Work Veterinary Strategies, Promotions and Tools

You Can Use To Turbocharge Your Veterinary Marketing and Grow Your Practice Revenue!
This System Could Be Worth Hundreds of Thousands of Dollars, Maybe Even Millions of Dollars To Your Bottom Line Over The Life of Your Practice!

This Is Not 300 Pages of Stuff To Simply Learn, This Is 300 Pages of Stuff To Do To Grow Your Practice!

Isn't That What You Need?
Better Practice Management Will Only Get You So Far,
You Need To Turbocharge Your Veterinary Marketing Today!
What Can Magnetic Veterinary Marketing Do For Your Vet Practice?
Increase Your Practice Revenue by 20-40% In Months, Weeks or Even Days!
Reactivate Those Inactive and "Lost" Clients With Irresistible Offers!
Pack Your Office Full of New Clients In Record Time!
Target and Bring In The Good Clients You Need and Deserve!
Not Only Increase Your Revenue But Add More Value To Your Veterinary Business!

Require You To Order Bank Deposit Slips More Frequently!
And Make You Look At Your Vet Practice Differently From Here On Out, Because You Are Not In Veterinary Business! You Are In The Business of Getting and Keeping Veterinary Customers!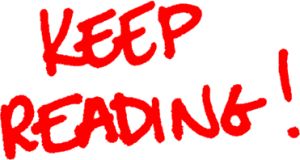 Here Is What I Have Learned About Veterinary Marketing Over The Past 20 Years:
I Know All Income Problems In a Veterinary Practice Can Be Solved With Better Marketing!
Any Problems In

Your Current Veterinary Marketing Can Easily and Quickly Be Fixed!

Veterinary Marketing Can Be and Should Be Done Professionally and Ethically!

Veterinary Marketing Is Not Difficult (If You Know How To Do It!)

Vet Marketing Results Can Be Seen in Days and Weeks (Even Hours) – Not Months or Years!

Veterinary Marketing Is Not an Expense – It's an Investment!

But You Can Even Deduct It On Your Taxes!



Improved Veterinary Management Alone Is Not Enough To Make You and Your Practice Successful, But Coupled With Great Marketing Both Will Change Your Veterinary Practice Forever!
There Is Probably No Single Way To Get 200 Additional New Clients Each Month, But There Are Certainly 40 Different Ways To Get 5 Additional New Clients That Total 200! You Just Need to Know Them!
No Matter What You Do, Success or Failure Is Usually Your Own Darn Fault!
These Are The Things I've Learned Over The Last 20 Years!
 Get Magnetic Veterinary Marketing Today and
Discover How To Market Your Veterinary Practice More Effectively…
And Find Out How One Veterinarian Practically Paid Cash For a Brand New 5,000 square foot Veterinary Hospital In Less Than 6 years Just By Using the Exact Strategies and Promotions Inside Magnetic Veterinary Marketing and Without Borrowing One Single Dime From a Bank!
Find Out How I Brought In Over $7,000.00 Dollars In Less Than 30 Minutes With This One Single Simple Marketing Promotion Included In Magnetic Veterinary Marketing and Then Discover How You Can Use This Same Promotion In Your Veterinary Practice Starting Tomorrow!
 Get Started Growing Your Practice Today With Magnetic Veterinary Marketing!
What Are Other Veterinary Practices Saying About Magnetic Veterinary Marketing?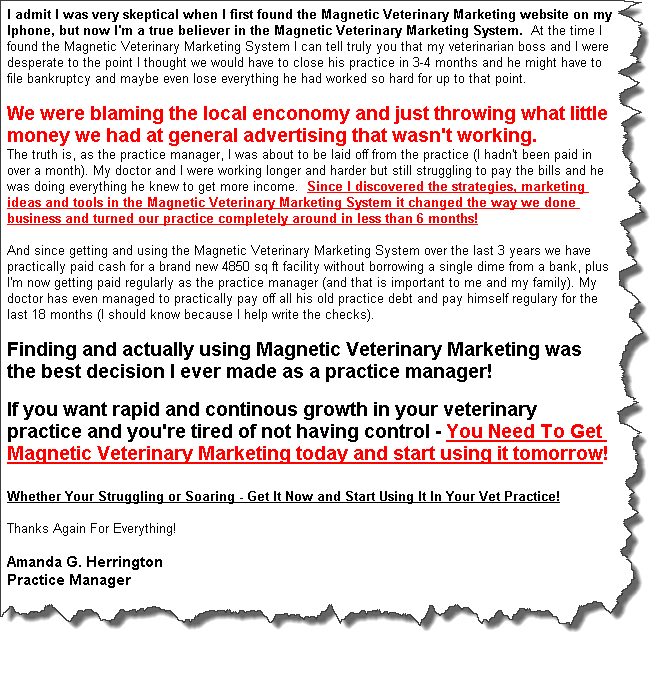 (And We Realize There Is a Typo In The Testimonial Above, But We Didn't Want To Modify It From How It Was Submitted From The Customer)
Here Is What You'll Discover Inside Magnetic Veterinary Marketing!

The Secret To Setting Up a Reliable and Predictable Marketing System!
The 5 Secret, But Simple Proven Ways To Grow Your Practice Income,The 5 R's!
How To Determine Your Client's Real Worth To Your Practice!
The Secret To Setting Up The Ultimate Veterinary Practice Profit Model!
The Secret To GettingInstant and Explosive Veterinary Practice Growth!
The Secret To Turning One Shot Sales Into Continuous Streams of Never Ending Profit!
The Secret To Creating

Massive Profits

From First Time Customer Visits!

The Secret To Increasing Your Average Invoice – No Matter What You Think You're Selling!

The Secret To Designing and Writing Advertisements That Really Work!
How To Avoid The Top 5 Killer Veterinary Practice Marketing Mistakes!
How To Separate Your Practice From All Your Competitors!
How To Get More Profit From More Profit Sources!

The Secret To Testing Your Marketing and Guarantee It's Working For You!

How To Discover The Buried Treasure In Your Customer Files!

The Secret To Finding Hot and Eager Customer Prospects For Your Practice!

How To Get Your Customers To Become Raving, Bragging Fans of Your Practice!

How To Easily and Quickly Get Customers To Refer Their Friends and Family Members!
The Secret To Getting FREE Advertising and Publicity That Won't Cost You a Dime!
How To Transform Your Plain Ole Business Card Into A New Customer Magnet!
How To Avoid 5 Huge Mistakes With Your Practice Website!
The Secret To Making It Impossible For Your Customer To Say No!
How To Use FREE Bonuses and Premium Offers In Your New Marketing!
How To Package Your Veterinary Services and Products For Maximum Profits!

How To Easily and Regularly Remind Your Customers That You Are There For Them!

How To Get a Virtual Stampede of New Customer Leads For Your Practice!

The Secrets To Turbocharging Your Yellow Pages Listing!

The Secret To Making Your Veterinary Practice Marketing Work Like Magic!
Learn How To Leverage Your Veterinary Marketing For Maximum Results!

How To Even Save Money On Taxes With Better Veterinary Marketing!


And Many, Many More Veterinary Income Secrets and Growth Strategies…
The Magnetic Veterinary Marketing System Is Like Having Your Very Own Hundred Thousand Dollar Veterinary Marketing Library At Your Fingertips 24 Hours a Day!
 Here's What Else You'll Get With Magnetic Veterinary Marketing:
Over 300 Pages of Veterinary Practice Building Information!
Every Single Strategy On CD and MP3 Digital Audio Format So You Can Listen Whenever and Where

E

ver You Want!

One Quick Start Veterinary Promotion For Your Practice

(Discover the Hidden Gold Mine In Your Patient Files)
The First Time I Used This Promotion In My Practice It Brought In $34.49 of Income For Every Dollar I Had Invested and During Just a 7 Day Period!That is a 3,449% Return (89,674% Annualized Return)!
We Brought In $5,272.61 of Additional Revenue In Less Than 12 Hours!
PLUS 32 Other Veterinary Promotions

To Keep Your Marketing Momentum Rolling Practically Forever!
How To Package Your Services and Products To Give a Higher Perceived Value!
How To Provide Better Pet Care and Dramatically

Increase Your Net Profits On Each Transaction
New Puppy Package Promotion Kit (Excel Spreadsheet and Handouts Included)
New Kitten Package Promotion Kit (Excel Spreadsheet and Handouts Included)
Adult Wellness Package Promotion Kit

(Excel Spreadsheet and Handouts Included)
How To Increase Your Average Transaction Fee Ethically, Honestly and Professionally (without pressure)
Includes Phone Shopper Log Form (Also Ideas To Follow Up With Those Potential New Clients)
How To Use Your Check-In Forms for Increased Efficiency, Net Profits and Optimal Care
Veterinary Client Internal Referral System (Including Forms, Cards and Quick Scripts to Get More Referrals)
How To Separate Your Practice From All The Rest (Professionally and Without Bragging with your USP!)
How To Use Direct Mail In Your Practice (

Includes Direct Mail Postcard Examples

)
How To Market To Those Better Clients (Basically Marketing To the Pet Owners Who Have Money To Spend)
How To Use Packaged Services and Products For More Net Profit

(and Better Patient Care)
How Not To Use Your Practice Website (Your Website Is Not Just For Information)
How To Use Marketing Tracking Forms (Forms Included)
The Benefits of Using Your Practice Software To Track Your Marketing
How To Calculate The Return On Investment for Your Marketing
Talk about a WHOPPING RETURN ON INVESTMENT
when you order Magnetic Veterinary Marketing Today


If The Lifetime Value of Your Average Veterinary Client Is Conservatively $3,000.00!
You Need ONLY 1/7th of One New Lifetime Client or
You Need ONLY a Couple New Client Office Visits

To Pay For This Entire Practice Growth System!
This System Basically Pays For Itself  Within Days or Weeks and Then
You Can Use The System Month After Month, Practically Forever!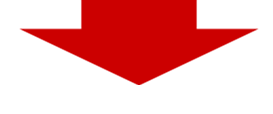 Get $600 OFF the Regular Price and Get the Entire Package Now…
ONLY $397.00
With All the FREE Extra Bonuses!!! Save $600 Now

If You Order By: Dec 23, 2017!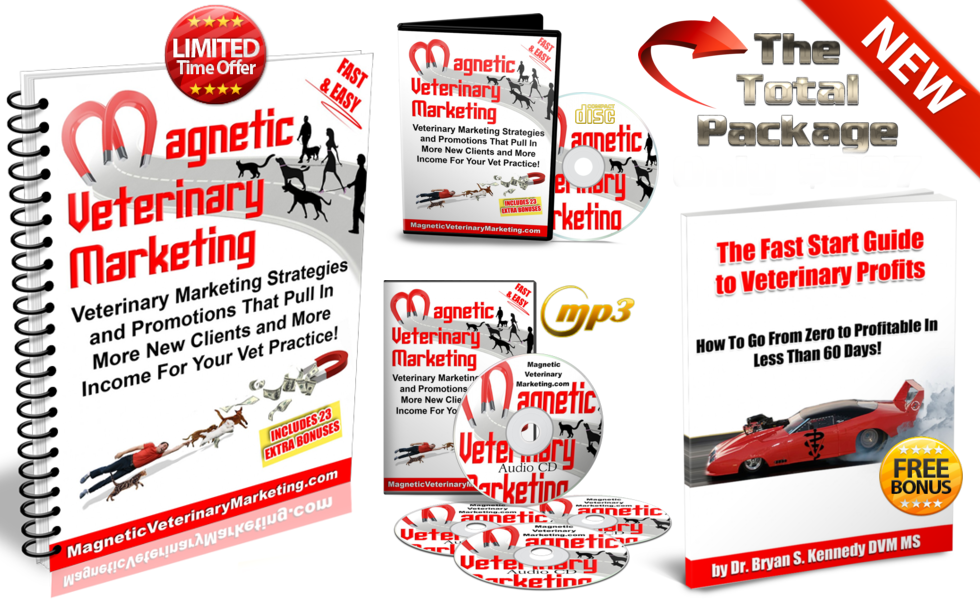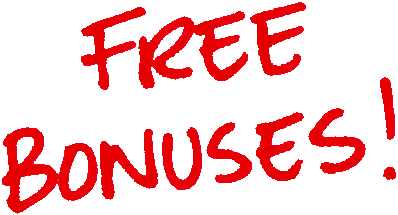 Plus Order Your Copy By
Dec 23, 2017
And You'll Get The 8 Awesome
Huge Bonuses Below For FREE!
These 8 Huge Bonuses Alone Are Worth More
Than Your Total Investment In This Entire System!

The Fast Start Guide To Veterinary Profits by Dr. Bryan S. Kennedy DVM MS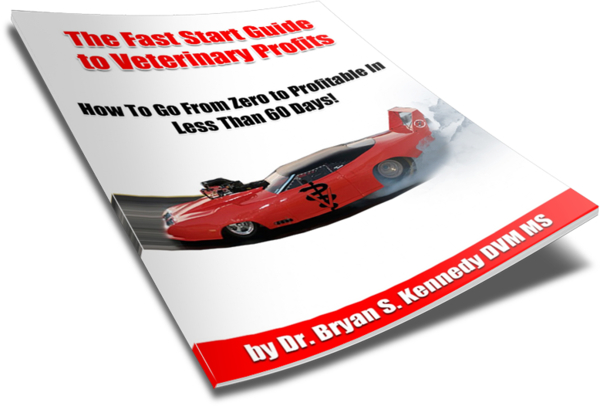 "22 Pages of  Veterinary Marketing Horsepower!"
How To Go From Zero to Profitable In Less Than 60 Days!
A $47.00 Value FREE
Not Available After Dec 23, 2017

Insider Secrets To Building a Million Dollar Veterinary Business by Dr. Diederik Gelderman BVSc, MVS, Master Trainer -NLP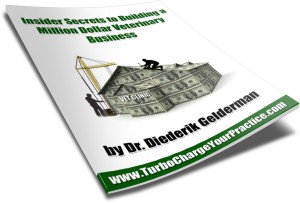 "Discover the Secrets To Building Your Million Dollar Veterinary Practice"
A $79.00 Value
This Bonus Expires After Dec 23, 2017

New Veterinary Client Welcome Pack by Dr. Diederik Gelderman BVSc, MVS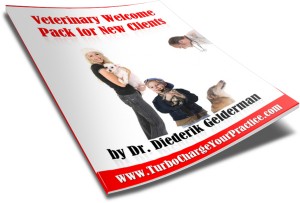 "How To"WOW" New Clients by Treating Them Like No Other Veterinary Practice They've Ever Been To Before and Guarantee They Return!"
A $69.00 Value
This Special Bonus Expires After Dec 23, 2017

Profitably Balancing Your Life by Dr. Diedreck Gelderman BVSc, MVS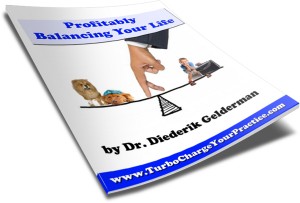 "We All Need a Refresher Course in Balancing Work and Life! Dr. Gelderman reveals how to better manage your time, your life and your work and take more control over your future!"
A $97.00 Value
This Special Bonus Expires After Dec 23, 2017

Getting Paid For What You Do With Creative Financing Options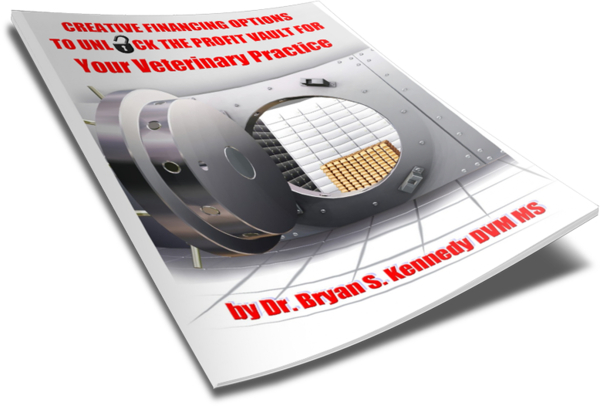 by Dr. Bryan S. Kennedy DVM MS

"What do you do when clients don't have pet insurance, they can't afford full care and they can't get approved for third party financing?"
Discover Creative Financing Options and Ideas That Gets Pets The Care They Need While Getting You Paid For What You Do!
A $47.00 Value
This Special Bonus Expires After Dec 23, 2017
These Awesome FREE Bonuses Will Go Away Forever

on Dec 23, 2017!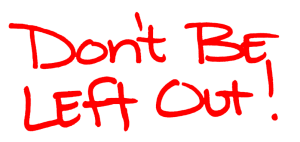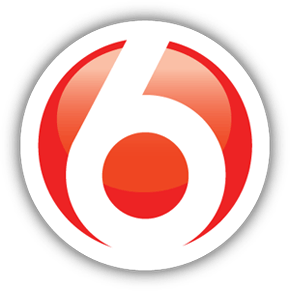 Plus Over 150 Success Principled E-Books You Can Use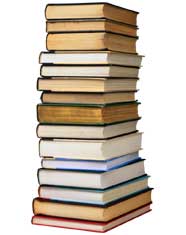 To Develop and Reinforce Your Veterinary Success!
Think and Grow Rich

by Napoleon Hill

As a Man Thinketh

by James Allen

The Laws of Success

by Napoleon Hill

The Strangest Secret

by Earl Nightingale

(Audio File)

The Science of Getting Rich

by Wallace D. Wattles (and it's not about money!)

The Power of Will

by Frank Chadding Haddock M.S. Ph.D.

The Richest Man In Babylon

by George S. Clason

Scientific Advertising

by Claude Hopkins (out of print)


The Path of Prosperity

by James Allen

The Greatest Marketing Secrets of the Ages

by Yanik Silver

The Laws of Financial Success

The Secret of the Ages

by Robert Collier

The Secrets of Success

by William W. Atkinson

(Audio Series)

Thoughts Are Things

by Prentice Mulford

Influence

by Yorimoto Tashi

A Message To Garcia

by Elbert Hubbard

Creative Mind

by Ernest Shurtleff Holmes

The Art of War

by Sun Tzu

The Master of Destiny

by James Allen

How To Get What You Want

by Orison Mett Marden

How To Attract Success

by F.W. Sears

How To Become a Millionaire

by Earl Shoaff

(Audio File)

The Science of Mind

by Ernest S. Holmes

Plus Over 125 More Success Oriented E-Books!
This Huge E-Book Bonus Expires on
Dec 30, 2017!

 Just Continue Reading….

When You Order By Jan 15, 2018
You Also Get Two Absolutely HUGE FREE BONUSES:
A FREE 30 Minute Veterinary Marketing Consultation Included With This System (a $149 Value Absolutely FREE!)
PLUS A FREE Veterinary Marketing Ad Evaluation (a $275 Value Absolutely FREE)



This Is $424.00 of Value Included ABSOLUTELY FREE!!!
This Special Big Bonus Will

Expire on Jan 15, 2018!

So Please Don't Wait Too Long!

Get Every Single Bonus Here Today



But No Matter When You Order You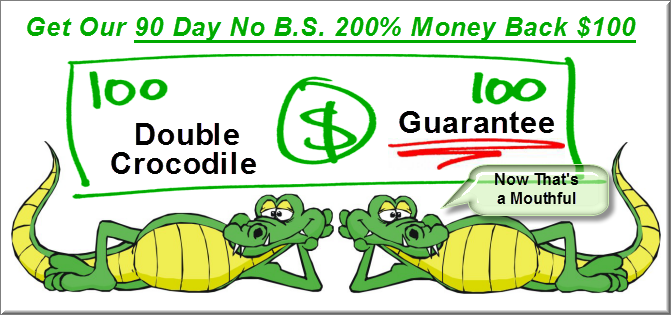 So If After Receiving and Using Magnetic Veterinary Marketing For 90 Days In Your Practice Along With Your Veterinary Marketing Consultation, Your Veterinary Marketing Ad Critique and Your Veterinary Management Consultation You're Still Not Satisfied With Your Investment and…

You're Not Excited To The Point That…
You Wouldn't Strip Down Butt Naked and Wrestle Two 12 Foot Crocodiles In 3 Foot Waist Deep Mud Just To Keep Using It,
Then Just Package It Back Up In Its Original Packaging and Send It On Back For a Full Refund!
And I'll Give You Double Your Money Back Plus an Extra $100 For Your Trouble!
So you can't lose with our 90 Day No B.S. 200% Money Back $100 Double Crocodile Guarantee!
Instantly Turbocharge Your Veterinary Practice Gross Revenue and Sky-Rocket Your Net Take Home Starting This Month With…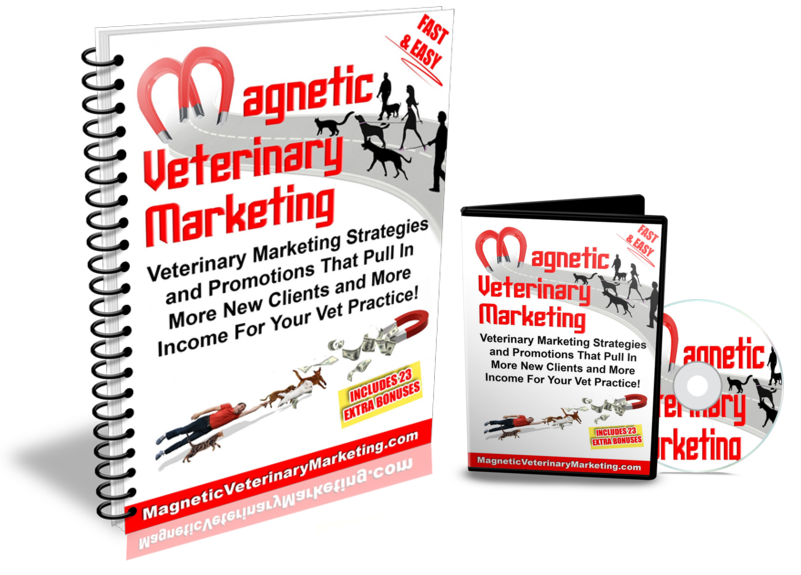 Remember This One Fact…
"Even the Greatest Veterinarian In The World
Will Struggle And Eventually Go Broke
Without Enough Practice Income!"
And that's why I created the Magnetic Veterinary Marketing System for my practice!
So, Remember That From This Day Forward Your Financial and Personal Success Will Require More Than Just a Diploma and a License To Practice Veterinary Medicine!
You Need To Market Your Practice More Effectively!
And What If You Don't Market Your Veterinary Practice More Effectively,
But Your Competitors  Do? (and don't kid yourself because you do have competition)
Totally Remove Your Competition From the Equation With Magnetic Veterinary Marketing!
OK, You Get It!
You Understand The Need To Turbocharge Your Veterinary Marketing and Want To Get Started Now…
 And Save $600 Now Off the Regular Price of $997 + FREE Shipping… Order Today!!!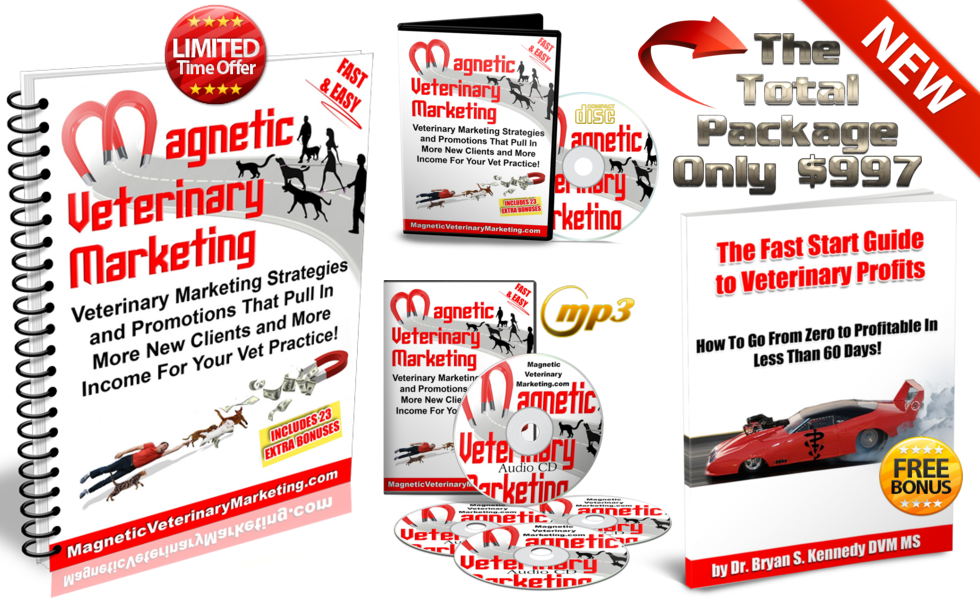 FREE Shipping in the Continental United States
Turbocharge Your Veterinary Marketing Today!
Don't Wait! Get Started Now!!!
Special Disclaimer:
Due To The Overall Effectiveness of The Strategies, Tools, Promotions and Ideas Included In Magnetic Veterinary Marketing We Can Accept No Liability or Responsibility Regarding How Other Local Practices May Be Affected By The Implementation of Magnetic Veterinary Marketing Within Your Practice.  Some Competing Veterinary Practices Have Been Forced To Move or Even Close After One Of Our Customers Has Fully Implemented This System.  Also The Return You Get On This Marketing System Will Depend On You Actually Implementing The Strategies, Tools, Promotions and Ideas Included In This System. You Cannot Just Read The Material – You Must Take Action!